Ever Had Trouble Sleeping?  Sarantos Releases Cathartic New Single and Video "Can't Sleep"
The Chicago-based artist will donate proceeds to The Sleep Charity, promoting awareness of the benefits of a good night sleep.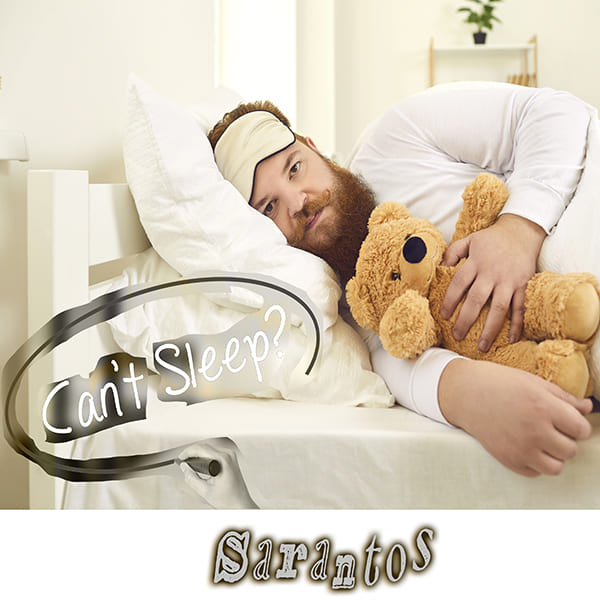 Award-winning singer-songwriter and producer Sarantos has just released a new single and video, "Can't Sleep". The single is a dark electronic pop tune, exploring themes of insomnia and anxiety, and is Sarantos' latest entry in a series of monthly releases which have included songs, lyric videos, music videos, book chapters, and poems.
The song, "Can't Sleep", expresses the struggles of insomnia and anxiety as the haunting vocals, sci-fi production and moody lyrics come together to make the perfect blend of darker pop. Drawing on influences from One Direction, Sugarcult and Chainsmokers, Sarantos creates a sound of his own which has been praised by critics and fans alike.
Proceeds from the single will be donated to The Sleep Charity, which provides support to empower people to sleep better, as well as campaigning to increase access to high-quality information, raise awareness of the value of a good night's sleep and promote understanding around the complexities of sleep.
Sarantos is not only a professional songwriter, producer and poet but also an avid comic book reader, proud nerd, workaholic, one-time owner of the Millenium Falcon, gamer and zombie killer. He loves sarcasm because it's funny, and his music and books are 100% certified organic, caffeine independent, gluten free and hypoallergenic. He also hosts the Songwriters Radio Show, which is syndicated on iHeartRadio, Spotify, Spreaker, iTunes, TuneIn, Stitcher, Alexa & Google Play.
Sarantos has won and been nominated for over 57 awards since 2014 and his songs, instrumentals and cues have had numerous media placements. He has made all of his songs, lyric sheets, videos, books and poems available for free on his website.
"Can't Sleep" is available on streaming platforms including Spotify, Apple Music, and Soundcloud, as well as on Sarantos' website. http://www.melogia.com