Country Artist Matt Westin To Be Named "Distinguished Alumni" By High School Alma Mater
On February 27th, 2020, the West Mifflin, PA graduate, country artist and actor, will perform and be honored at the 9th Annual Sample West Mifflin event.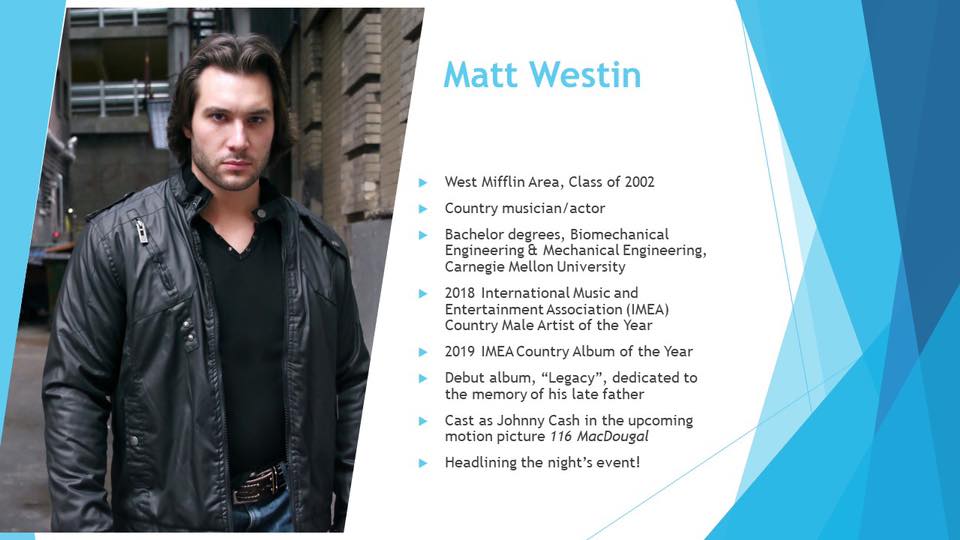 In just two short years, Pittsburgh-based country artist and actor Matt Westin has seen his life play out like a Hollywood movie. Following the passing of his father, Matt shifted gears on his promising engineering career. Inspired by his father, Matt recorded and released his debut album, Legacy. That album, and two subsequent single releases, helped him win two International Music and Entertainment Association Awards. He landed on the iTunes Top 40 Country Songs chart, racking up worldwide radio airplay, as well. Aside from music, his acting skills helped him land the role of Johnny Cash in the upcoming Donna D'Errico film, 116 MacDougal.
On Thursday, February 27th, Matt Westin will be recognized for his achievements by his high school Alma Mater, West Mifflin Area School District. Matt will be honored as a "Distinguished Alumnus," and his performance will headline the "9th Annual Sample West Mifflin" event. This popular happening spotlights the many unique things that the school district has to offer, while allowing community members to engage with varied businesses and community groups that work in and around the areas of West Mifflin, Whitaker, and Duquesne – the three areas that comprise the district.
Representatives from all the district's schools will be on hand to answer questions about the many exciting educational opportunities available to students in the West Mifflin Area School District. Clubs and community groups will be on hand with plenty of activities for children and teens, including a "Gym and Swim" event, where kids can utilize the school's gym and pool for various activities. Adults will have the opportunity to learn more about the area's flourishing businesses and organizations.
The night concludes with a raffle of various prizes, including a pair of tickets to the Lady Antebellum concert at S&T Bank Music Park on Friday, July 17th, courtesy of Froggy 94.9/104.3.
ABOUT MATT WESTIN: Following the passing of his father, Matt Westin left a successful engineering career to follow his dreams of a life in country music. Matt has appeared in Billboard Magazine, New Music Weekly, and many other publications, as well as having performed on ABC and FOX TV. For more information, please visit www.mattwestin.com.